Family Colubridae
Description:

Adults 30" to 56" in length. Color light brown, buff, cream, or yellowish, with median row of 50 - 60 darker blotches; similar but smaller blotches on sides. Moderately slender body, with smooth scales; snout sharp, with countersunk lower jaw. Single anal plate.
Elevation Range:

Below 5000' in eastern Colorado.
Subspecies in Colorado:

Arizona elegans elegans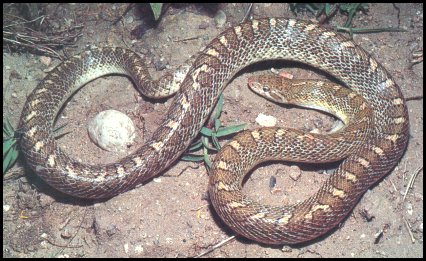 Photo from Hammerson, 1986.
Used with permission.