Family Teiidae
Description:

2 7/8" to 4" snout-vent length; to about 12" overall. Color light tan to yellowish, with irregular dark brown to black blotches arranged in rows between narrow stripes of lighter color. Head long and triangular. Scales on back small and granular; scales on underside larger and rectangular.
Elevation Range:

Below 6000' in extreme western Colorado.
Subspecies in Colorado:

Cnemidophorus tigris septentrionalis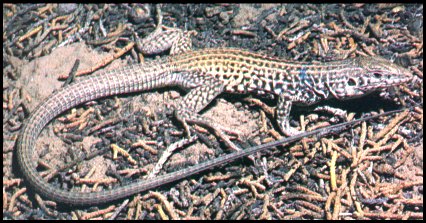 Photo from Hammerson, 1986.
Used with permission.