Family Teiidae
Description:

2½" to 3¼" snout-vent length; to 10¾" overall. Color brown to black, with 6 or 7 narrow light stripes down back and sides. No light spots in dark areas between stripes. Head long and triangular. Scales on back small and granular; scales on underside larger and rectangular.
Elevation Range:

Below 7500' in western and southwestern Colorado.
This species is parthenogenic, consisting almost entirely of females which are capable of reproducing without benefit of male fertilization. (See Colorado Checkered Whiptail (Cnemidophorus tesselatus) for discussion.)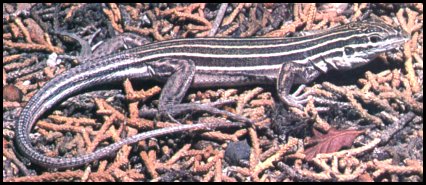 Photo from Hammerson, 1986.
Used with permission.