Family Crotaphytidae
Description:

3½" to 4½" snout-vent length; to 14" overall. Color greenish to tan, often with lighter greenish to yellow bars across back. Two prominent collar-like black bands separated by lighter band behind neck. Dorsal surface often peppered with small whitish spots. Large head, with prominent constriction at neck.
Elevation Range:

Up to 7000' in southeastern Colorado; to 8000' in western Colorado.
Subspecies in Colorado:

Crotaphytus collaris collaris in southeastern Colorado; Crotaphytus collaris auriceps in western Colorado.

C. c. auriceps males have a bright yellow head; C. c. collaris males have head nearly the same as body color.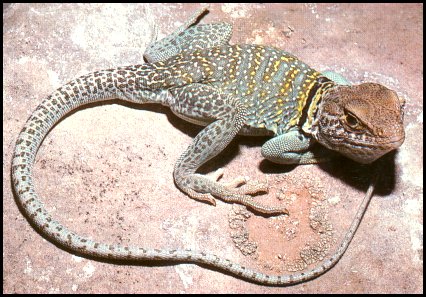 Photo from Hammerson, 1986.
Used with permission.