Family Viperidae
Description:

Adults to 26" (subspecies concolor) or 48" (subspecies viridis) in length. Color cream or yellowish (subspecies concolor) or brown or greenish (subspecies viridis). Median row of darker blotches on back; two rows of similar but smaller blotches on sides (blotches faded in subspecies concolor). Wide head, narrow neck, and stout body; keeled scales.
Elevation Range:

Upper limit of 7500' to 9500' over most of Colorado.
Subspecies in Colorado:

Crotalus viridis concolor (Midget Faded Rattlesnake) in western Colorado;
Crotalus viridis viridis (Prairie Rattlesnake) in southern and eastern Colorado.
Possible viridis concolor integrades in northwest and southwest.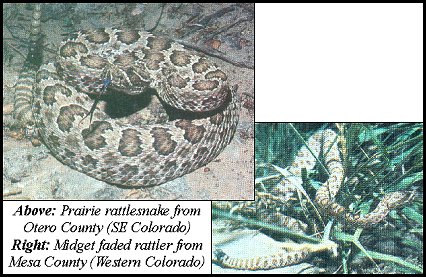 Photos from Hammerson, 1986.
Used with permission.
Lower photo by L. Livo and S. Wilcox.