Family Colubridae
Description:

Adults to about 16½" in length. Color uniform olive, bluish gray, to slate gray; underside bright yellow to orange, with numerous black spots, changing to red or reddish orange on tail. Conspicuous yellow to orange ring around neck. Divided anal plate.
Elevation Range:

Below 6000' in southeastern Colorado.
Subspecies in Colorado:

Diadophis punctatus arnyi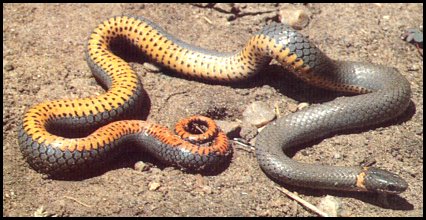 Photo from Hammerson, 1986.
Used with permission.