Family Crotaphytidae
Description:

3½" to 4½" snout-vent length; to over 15" overall. Color light brownish to grayish, with dark brown spots on back and tail. Transverse white bands across back fade with age. Head large, rather distinct from neck; tail approximately twice body length.
Elevation Range:

Below 5000' in extreme western Colorado.
Subspecies in Colorado:

Crotaphytus wislizenii punctatus
Formerly listed as Crotaphytus wislizenii.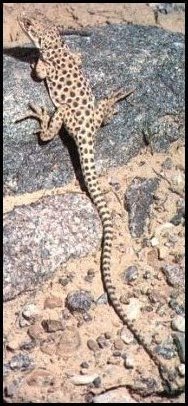 Photo by L. Livo and S. Wilcox,
from Hammerson, 1986.
Used with permission.