Family Colubridae
Description:

Adults 36" to nearly 72" in length. Color black or dark brown, with either white or pale yellow bands (subspecies californae), or yellow crossbands across back and yellow speckles along sides. Smooth scales. Usually two rows of scales on underside of tail. Single anal plate.
Elevation Range:

Known in Colorado only at around 5200' in Montezuma County and at 4000' in Otero County.
Subspecies in Colorado:

Lampropeltis geluta californae in southwestern Colorado;
population in eastern Colorado (Otero County) are integrades between L. g. holbrooki and L. g. splendida.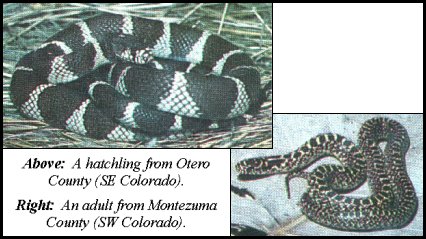 Photo from Hammerson, 1986.
Used with permission.