Family Colubridae
Description:

Adults 18" to 36" in length. Colored with bands of whitish to yellowish, black, and red or orange. Red or orange may appear as incomplete bands or saddles on black. Smooth scales. Single anal plate; two rows of scales on underside of tail.
Elevation Range:

Below 8000' in eastern and southern Colorado; below 6000' in western and central Colorado.
Subspecies in Colorado:

Lampropeltis triangulum taylori in western and central Colorado;
Lampropeltis triangulum gentilis in eastern Colorado.
Integrades between L. t. taylori and L. t. celaenops occur in southwestern and southern Colorado, while L. t. gentilis and L. t. multistrata integrade in the northeast.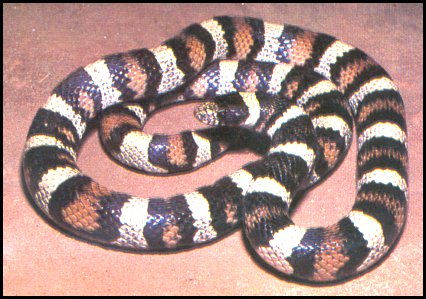 Photo from Hammerson, 1986.
Used with permission.