Family Leptotyphlopidae
Description:

Adults 9" to 12" in length. Color dark brown, light brown, or pinkish. Somewhat resemble earthworms. Eyes vestigial, appearing as black spots only. No enlarged scales on underside of body.
Elevation Range:

Below 4500' in southeastern Colorado.
Subspecies in Colorado:

Leptotyphlops dulcis dissectus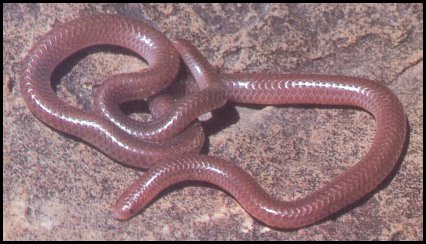 Photo from Hammerson, 1986.
Used with permission.