Family Colubridae
Description:

Adults 30" to 53" in length. Color gray, brown, or tan, with darker bands on anterior end of body, changing to dark angular blotches posteriorly. Underside yellowish or gray, with with grey, yellowish, or reddish markings. Moderately heavy body, with keeled scales. Divided anal plate.
Elevation Range:

Below 5500' in eastern Colorado.
Subspecies in Colorado:

Nerodia sipedon sipedon
Listed as Natrix sipedon in older publications.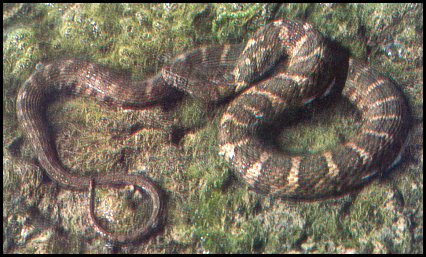 Photo by L. Livo and S. Wilcox,
from Hammerson, 1986.
Used with permission.