Family Colubridae
Description:

Adults 12" to 26" in length. Color uniformly green on top, white to cream on underside. Slender body, with smooth scales. Divided anal plate.
Elevation Range:

Between 5500' and 9000' on both sides of Continental Divide in Colorado.
Subspecies in Colorado:

Liochlorophis vernalis blanchardi
Sometimes listed as Liochlorophis vernalis.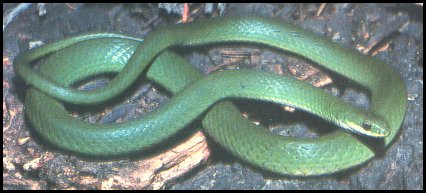 Photo from Hammerson, 1986.
Used with permission.