Family Phrynosomatidae
Description:

2¼" to 4" snout-vent length; to 7" overall. Color brownish to grayish, with large sooty to dark brown irregular blotches on back. Light stripe down center of back. Two large, narrow horns at back of head. Two rows of pointed scales along sides.
Elevation Range:

Below 6000' in southeastern Colorado.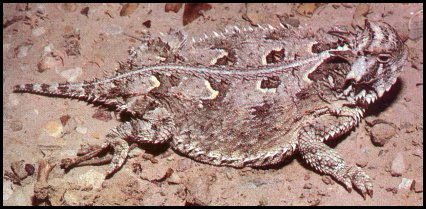 Photo from Hammerson, 1986.
Used with permission.