Family Colubridae
Description:

Adults 24" to 41" in length. Color red, pink, white, cream, or yellowish, with black saddles; light speckles on saddles along sides. Moderately slender body with pointed, tapered, slightly upturned snout; smooth scales. Scales on underside of tail in a single row except at tip. Single anal plate.
Elevation Range:

Below 5000' in southeastern Colorado.
Subspecies in Colorado:

Rhinocheilus lecontei tessellatus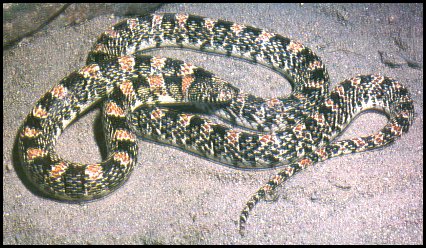 Photo from Hammerson, 1986.
Used with permission.