Family Phrynosomatidae
Description:

2¼" to 3½" snout-vent length; to 7¼" overall. Color mottled brown to grayish, frequently with two lighter stripes down back (markings vary regionally). Medium-sized keeled scales on back.
Elevation Range:

Up to 9200'.
Subspecies in Colorado:

Sceloporus undulatus garmani on northeastern and far eastern plains;
Sceloporus undulatus erythrocheilus through central mountains;
Sceloporus undulatus elongatus in western Colorado;
Sceloporus undulatus tristichus in and around Archuleta County in southwestern Colorado.
This species is commonly refered to as the Prairie lizard or Plateau lizard.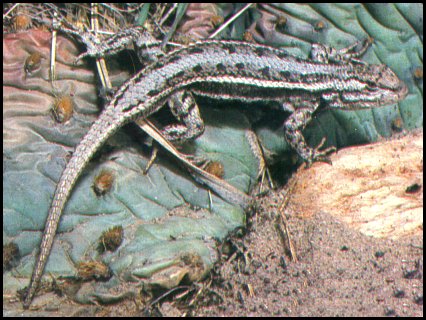 Photo from Hammerson, 1986.
Used with permission.