Family Viperidae
Description:

Adults 24" to 36" in length. Color light gray to grayish brown, with median row of darker blotches on back; typically with three rows of similar but smaller blotches on sides. Wide head, with enlarged scales between and in front of eyes. Narrow neck, and stout body, and keeled scales. Eyes with vertical pupils.
Elevation Range:

Below 5500' in southeastern Colorado.
Subspecies in Colorado:

Integrades between Sistrurus catenatus edwardsii and S. c. tergeminus in southeastern Colorado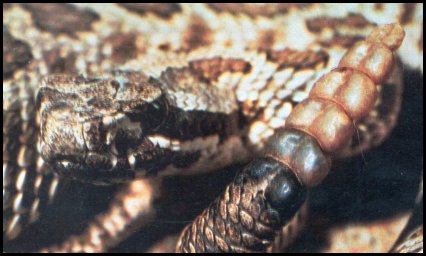 Photo by L. Livo and S. Wilcox,
from Hammerson, 1986.
Used with permission.