Family Colubridae
Description:

Adults 12" to 21" in length. Color gray, with light gray, yellow, or orange stripe on back, and less defined pale stripe on sides. Underside whitish or yellow, with two rows of conspicuous black marks. Moderately slender body; keeled scales. Single anal plate.
Elevation Range:

Below 6000' in eastern Colorado.
Subspecies in Colorado:

Tropidoclonion lineatum lineatum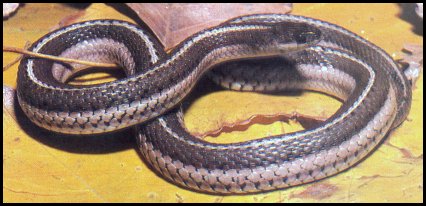 Photo from Hammerson, 1986.
Used with permission.