Family Phrynosomatidae
Description:

1 7/8" to 2 1/4" snout-vent length; to 5 3/8" overall. Color mottled tan to brown. Gular fold across throat. Row of enlarged scales down back broken by a central row of smaller scales.
Elevation Range:

To 6500' in northwestern Colorado; to 8000' in southwestern Colorado.
Subspecies in Colorado:

Urosaurus ornatus wrighti
Listed as Uta ornata in some older publications.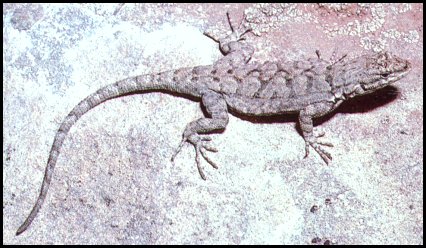 Photo from Hammerson, 1986.
Used with permission.